Screen and Video Broadcasting for Windows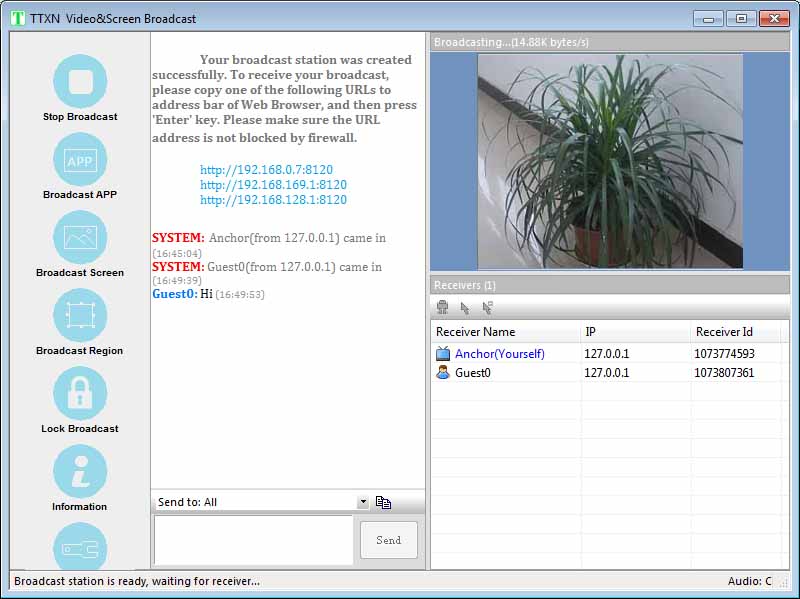 Broadcast video and/or screen for presentations and training sessions. Record, Playback and Manage screen and video.
Let others watch your screen and/or web camera with web browser from their own computer.
Both built-in and external server are supported.
Voice supported.
Record screen and video on server.
Manage and playback the recorded video and screen from web browser without installing addtional application.
User and privilege management.
Broadcast entire screen.
Select a single or multiple applications to broadcast.
Select partial screen to broadcast
Mouse click indication.
All participants can make annotation on screen, and can change the annotation color and line width
Viewer can remotely control your computer.
Viewer can change the skin of player.
While broadcasting desktop or application, viewer's screen can automatically scroll follow the mouse cursor.
Live chat with viwers even when sharing desktop or application.
Watch from Windows,Linux,MAC, Android, iPhone..., without installing additional application or plugin.
Get Started
The Windows edition of this software is a portable application, there is no installation process requested.
Please download the 64bit or 32bit version of the package(.zip format) according to your system, and extract it to a directory, go to the directory click 'TScreenBroadcast.exe" to start the program, then all is ready.
If you want to broadcast your android's screen or video, please download Screen&Video Broadcast for Android on the right of this page.
Important Notes:
If you are not sure of your system type, please download 32bit version, it will always work.
If the Windows Smartscreen popup to prevent from starting, please click 'More info', then click button 'Run anyway'. Our software does not harm to your computer.
Begin Watching the broadcasting screen/video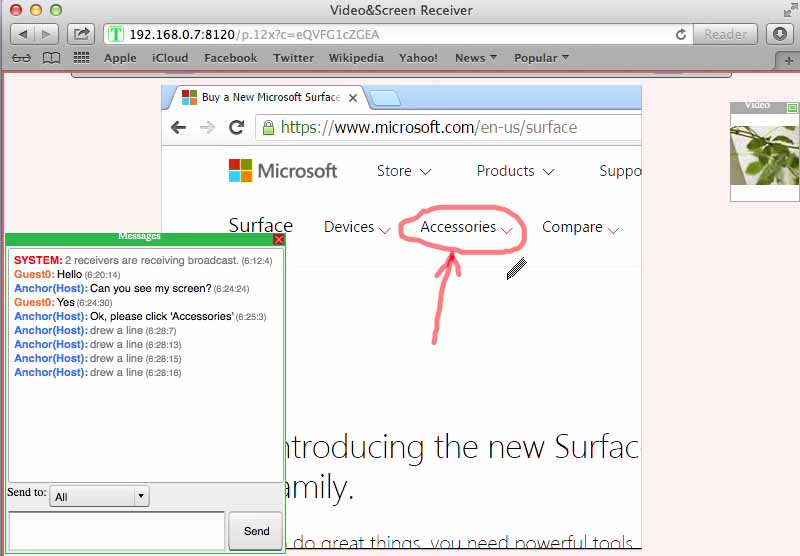 To watch the broadcasting screen/video, you don't need to install additional software, please type one of the URL address listed in program window into your web browser, the screen/video will be played automatically. You can even watch from mobile device.
Push screen to external server.
TTXN Screen&Video Broadcast allows you to push screen and or video to internet. Please download and install TTXN Live Video Broadcast Server software to your server. In Settings window of Screen&Video Broadcast, change the server from 'built-in' to 'external', and fill in your server address and login information of LVB server. Restart broadcasting, then others can use web browser to watch your live screen/video on the server.
Make skin for player.
TTXN Screen&Video Broadcast allows you to create your own skin for video player.
Go to the directory where the software was extracted, find the directory 'skin'. Please copy your skin pictures to this directory, then the viewer will load the skin to skin list automatically. The skin picture is indeed an ordinary image file. Player can automatically detect the screen in the picture, but if it can't find the screen, please draw the screen area on skin picture with a special color different from other colors in the picture.
TTXN Screen&Video broadcast is free software.
If you want to customize UI or features, please Contact US